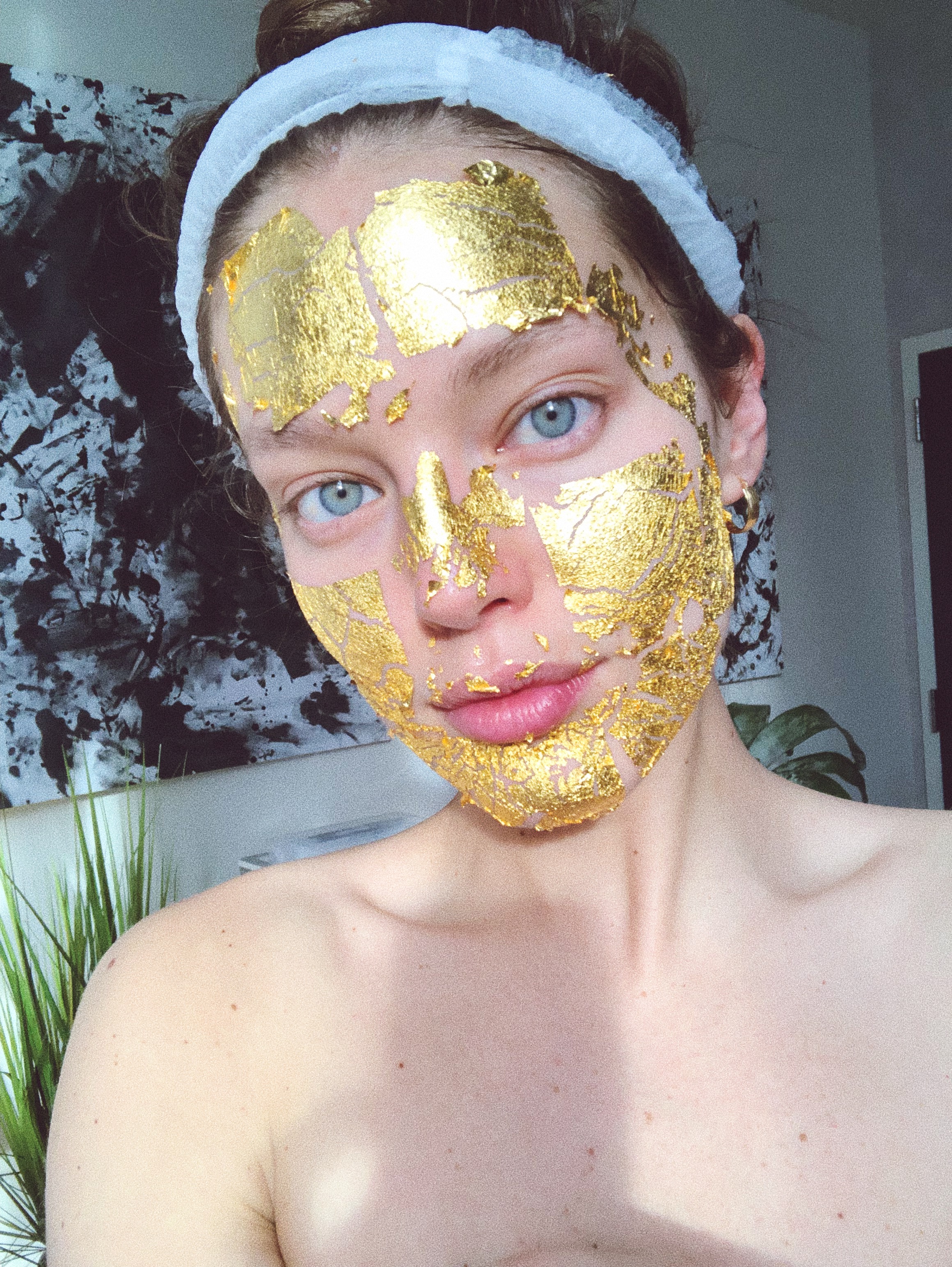 If you take a look at Soma Spa's Instagram, it doesn't take long to clock the amount of model and celebrity clientele that trust Vanessa Marc with their skin. If you scroll, you'll see gorgeous golden selfies, and caviar masks on some of the most beautiful women in the world.
I've got a thing for glowing skin and I'll do just about anything to achieve it so when Vanessa invited me into the spa to try out her 24KT gold facial, I immediately accepted. Getting a 24KT gold facial was one of the more luxurious things I've done to get that glow I crave but I sat down with Vanessa after our treatment and found out how to get a golden glow without the literal gold.
How and why did you get into skincare?
I used to go to different spas and I got tired of not being satisfied with the service. I would get burnt from lasers because they were using the wrong setting on me and I felt like there had to be better treatments out there. I started to do my research and the more I looked into it, I decided to enroll in school and learn more about all of new age equipment and machines out there and just really educate myself on the best products. I wanted to learn how to give people a great experience without any downtime or pain.

You mentioned that you did a pop up in LA while the Grammys were going on. Did you prep anyones skin for the big event?

I got Chloe and Halle ready who are two rising stars. They sang at the super bowl and at the Grammys. They are also actresses and singers. I did Justine Skye, who has been a long time client. I've also worked with Winnie Harlow who has been a long time client of mine. She is always fun and awesome to work with. I've also worked on Madison Beer. It was my first time going to LA and just stepping out of my comfort zone and trying something different.
We used gold during our facial which is very luxurious. Is there an alternative product or step that someone could take to get a similar glow to the 24 KT gold facial?

I would really just tell them to be adamant about their skincare regime. If they want a nice glow, it's important to double cleanse and use Vitamin C. Vitamin C is great for brightening and will give you a boost of antioxidants to give the skin that glow. Also, applying hydrating serums and a moisturizer. If you follow those steps, that helps maintain the skin. Making sure that it is super hydrated and that helps give the skin that resilient glow.


What is one step or product that you think is most crucial to a skincare routine?

I would say cleansing, toning, using any serums like an antioxidant serum with Vitamin C or a hyaluronic one for hydrations and then sealing it with a moisturizer. I'd also say exfoliating twice a week.

Favorite skincare products?

I love Dermalogica. I use it on myself religiously. There are no parabens, it's plant based and cruelty free. I love professional lines that aren't too harsh on the skin.


Favorite beauty device?

My favorite beauty devices are my professional equipment here. I have this high tech facial machine that sucks out all the dead skin and impurities. It really helps to suck out black heads, product build up and anything that causes break outs and congestion. It doesn't cause redness or irritation to the skin.
Multi-step beauty routines are on the rise with double cleansing, Korean skincare etc. What step do you think we can skip?

I am a big fan of Korean skincare. My Caviar facial here is Korean based. I partnered up with Esthemax masks who are based in California. They make all of these amazing caviar masks, serums and the gold facial so that you guys have porcelain looking skin. So no, I would say go through all the steps. if you want to reserve your youth and glow, it's really important to do all the steps. I cleanse, tone, use a Vitamin C serum, a hydration serum and a moisturizer everyday and sometimes after all of that, I put on an SPF. I would say to not skip anything.

How do you remove your makeup?

I rarely wear makeup. I wear makeup when I have a big event. If I'm going to the Diamond Ball or a fashion week show or the Grammy's, I tend to wear makeup for a red carpet or a big important event. For the most part, when I'm working and my everyday life, I don't wear makeup. I like to let my skin breath. if I do wear makeup, i like to break it down with an oil and I'll use a Dermalogica cleanser and then I move on to my serums and moisturizers.

Old faithful beauty or skincare product?

I would say I always have my go-to Vitamin C and brightening serums. I like that glow and I like to look super hydrated so I use a good hydrating moisturizer and Vitamin C serum to maintain that glow. It helps with skin tone, hydration and also give you that nice glow.
That's all folks! Thanks for reading! :)